www.brentlogan.net
---
Infant Outcomes of a Prenatal Stimulation Pilot Study, Pre and Perinatal Psychology Journal, 6(1), Fall 1991

Brent Logan, Ph.D.

ABSTRACT: An evaluation of prelearning theory--which maintains that normative brain cell death prior to birth can be beneficially influenced by sensory imprinting--began in December 1986, providing progressive sonoral stimuli for a two-month fetus. These sequenced signals were adapted from the maternal blood pulse, as recorded by hydrophone in utero, thus conforming to the prenate's natural sonic environment; three hours of daily application lasted seven months, administered from a portable audiocassette player with transducers positioned on the abdomen. Following a July 1987 birth, developmental stages were assessed on the Clinical Linguistic and Auditory Milestone Scale (CLAMS) and other measurements, these preliminary data grounds for expanding the pilot study to additional gravidae.
Project Prelearn's second phase neonates--including identical twins--performed comparably with the first advantaged infant; average receptive and expressive inventory scores at six months describe achievement in children one year older, ten months beyond the gifted level. Continued tracking utilizing control and comparative measures will test this initial determination. The study's background, rationale, protocols, and technical means are detailed, with outcomes statistically as well as visually presented; these results have inaugurated a controlled clinical trial employing a more rigorous methodology, external evaluations, and a substantially larger number of subjects.
---
THE DISCOVERY OF FETAL FUNCTION
Very young people--particularly prenates--have been long discriminated against by adults presuming definitional incompetence. Despite expected professions of endearment, this hubristic if unspoken attitude stems from pandemic ignorance of early biological as well as psychological knowledge, in large part influenced by Freud's unenlightened regard for infant abilities and the Victorian era's suppression of bodily concerns, especially matters procreational.
As a result, only quite recently have technological innovations like ultrasound, fetal heart monitoring, and the videocamera begun to supply evidence reversing both the professional and public views of when facility commences, and while such investigation almost entirely centers on causes of dysfunction, the search has incidentally located function where none had been remotely postulated. In pushing further and further back the onset of not just infant sensitivity and sensibility, this new glimpse of competence has penetrated even the womb, therein revealing unimagined capabilities worth recounting.
The embryonic nervous system begins to transmit data merely days from conception, supported by the hormonal "wet brain"; at three weeks, the neural tube lays a foundation for mental processing with visceral stimuli informationally regularized simultaneously by cardiogenesis. The fifth week marks brain-body coordination through reflex activity. The first neuronal growth spurt between weeks 8 to 18 establishes the fetal protobrain,(1) its essential elements differentiated sufficiently so that infant exercise--rolling, waving arms, kicking legs--progresses by the 10th week, responsive hearing verified by the 18th. Premature babies in their fifth month demonstrate a mimicry like learning through "cryprints" showing maternal voice correspondence, and rare but documented vocalization in the womb due to trapped air has been heard ex utero by month six. Countless examples of recalled prebirth and perinatal events, obtained either through careful querying of young children or by hypnosis,(2,3) as well as vivid musical memory(4) and preference for rhythmic material recited or read to prenatally,(5) confirm the fetus as a virtual species just identified. Yet if the quest for fetal dysfunction has in fact finally located its opposite--and quite sophisticated at that--our primordial vision suffers another occlusion.
Because contemporary social structures institutionalize norms, as concerned caregivers we look to elevate or at least maintain those falling below the democratic standard. While such efforts are unquestionably laudable and deserve even greater levels of commitment and funding, the human spectrum has another extreme--lucidly noted by Oliver Sacks:
'Deficit'... is neurology's favourite word--its only word, indeed, for any disturbance of function. Either the function (like a capacitor or fuse) is normal--or it is defective or faulty: what other possibility is there for a mechanistic neurology, which is essentially a system of capacities and connections?
What then of the opposite--an excess or superabundance of function? Neurology has no word for this--because it has no concept. A function or functional system, works--or it does not: these are the only possibilities it allows. . . . And this alone suggests that our basic concept or vision of the nervous system--as a sort of machine or computer--is radically inadequate, and needs to be supplemented by concepts more dynamic, more alive.(6)
Hence, in clinical parlance, exceptionality invariably specifies some form of retardation; physicians, educators, and, to an even more unsettling extent, scientists, must first "do no harm" in the presumption that the status quo is optimal. This reluctance to pervasively nurture the goals of giftedness--letting talent fend for itself in heavily prejudiced lesser surroundings--while not surprising, obviously fetters examination of extraordinary performance, whether recognized genius or the autistic savant. We applaud the prodigious only so long as such anomaly is singular and does not overtly antagonize--which is to say, for long upstage collective if relative mediocrity.
In this tenuous context, then, infant (not to mention fetal) precocity is doubly suspect--first, because extremely early life inhabits a land only tentatively annexed, and, secondly, since excursions into this provocative province already suggest enormous potential for ontogenetic alteration; that such change is beneficial does not immediately reassure. If tree follows twig, the uninformed forest fears seeds sprung from more fertile soil.
PRENATAL STIMULATION HISTORY AND RATIONALE
Increasing reports over the last decade of perhaps 3000 children worldwide who received some form of environmental enhancement in utero--beyond that afforded by proper nutrition, sensible maternal behavior, and low stress levels--suggest close congruency,(7) depicting infants born with eyes open, smiling, relaxed, hands and arms wide, no crying, immediate cooing or babbling, voice recognition by turning to parents, unusually long attention spans, superior early inventory scores, followed by rapid acquisition of developmental stages, linguistic facility, extraordinary intelligence, artistic prowess, high scholastic achievement, and impressive sociability.
From the anecdotal evidence describing prenatally stimulated youth, some now passing through their teens, these are not performing like pressured "superbabies"--often the defenseless objects of otherwise thwarted parental ego--who by puberty might dejectedly lose their initial lead; instead, we appear to be witnessing recipients of enduring creative, interpersonal, and intellectual advantage whether or not surroundings after birth were especially enriched. Moreover, a consistent endowment of strong self-motivation and curiosity seems complemented by an empathtic nature inflected with excellent humor.
In the tradition of an ancient practice--still observed tribally throughout Africa, Polynesia, and Asia (where the Japanese call it taikyo(8)--parents in mounting numbers are intuiting that speaking, singing, chanting, or playing music directly to their unborn has more than placebo effect, that some positive fetal mechanisms are invoked by virtue of rhythm and repetition. Technology has abetted this primitive act as radios, television sets, concerts, phonographs, and audiocassette players routinely provide acoustic material to the prenate--intentionally or not. Chronicling this growing movement in 1982, the author ascertained a sonic common ground to all reports, an observation reinforced by the only two systematic efforts, those of Rene Van de Carr(9) and Donald Shetler,(10) begun several years earlier.
In answer to why such nascent influence should have lasting consequence, a Law of Ontogenetic Potential was proposed:
Po = G E
A
Genetic and environmental factors in relation to an organism's age determine its development, thus, since the first is fixed at conception, only nurturing can alter natural direction--substantially during youth, minimally in later years. Once the epigenetic implications of this basic formula are grasped, twin features indigenous to fetal life become cornerstones in evolving applied axioms.
Because nerve cell proliferation is normatively subject to massive reduction coincidental with conclusion of the prenatal period(11)--overproduction as survival insurance--yet imprinting (defined as any repeated stimulus which as a result of reinforcing low resistance preferential pathways between neurons, especially during early plasticity, permanently evokes organismic response) suggests that our first learning activities indelibly structure the remnant protobrain, a developmental window may afford every fetus opportunity for neurogenetic enhancement benefitting lifetime performance. This argument constitutes prelearning theory, that provision of stimuli appropriate to an unborn's informational receptivity will significantly mitigate neuronal limitations imposed biologically, presumably laying a base for all later learning. If stated as a Law of Neurogenetic Potential
Pn = D I
D = f I
where the extent of cell death occurring shortly before gestation ends can be moderated by imprinting, then amplified neurogenesis predicating equally expanded faculty options over life should be a direct consequence, notably in the brain. Such an explanation would address both profound neuroanatomical and behavioral changes of a positive nature observed in animal studies(12) where prenatal sound stimulation has taken place. Correspondingly, based upon these numerous animal trials and increasing fetal exposure to sonic intervention elected by parents claiming substantially positive outcomes in their offspring, the prelearning thesis called for an evaluatory method in humans if some standardized means of application were sought.
CURRICULARIZING IN UTERO IMPRINTS
Given a sonic denominator to those enrichment practices before birth alleging long-term ontogenetic gains, an initial step for determining the acoustic environment to which every fetus is exposed requires a sound map. Hydrophone recordings(13) made through the dilating cervix of gravidae pending delivery reveal the womb bathed in sonic stimuli: virtually all sounds available to the mother permeate her abdominal cavity, though muffled slightly and attenuated by 30-35 decibels.
Predominant is maternal blood pulsing past the placenta in monotonal waves at a peak volume nearing 95 decibels, as measured internally, timed to heartbeat. No other in utero sonic stimulus even closely approaches the candidacy of this native signal as our primal imprint, verified by extensive postnatal examples(14) showing marked influence upon neonatal quiescence, weight gain, how parents hold infants, childhood sleep, and the rhythms of musical compositions. Conceivably, cardiogenesis simultaneous with inception of the neural tube--well before apparent physiological need--may be evolution's overlayment of function by developmentally advancing a process which serves as the archetypal vertebrate governor providing a constant source of bipolar patterning (pulse, pause, pulse, pause), hence imprintable, to the beginning brain.
But apart from heartbeat's normative variance in the individual, both the rapid fetal organ and its slower maternal counterpart are essentially limited in their primary sonic parameters--tone, frequency, and volume--the most rudimentary repertoire. And if only novelty evokes response--data acquisition strengthening mental components--could this stark informational deprivation explain why, compared with original production, merely a minimal neuronal population survives the critical cell dieoff period penultimate to birth? The conventional explanation, competition for a fixed number of synaptic sites, might in fact portray an understimulated situation, one of restriction rather than opportunity. In terms relative to our rising cultural expectations, is the human brain suffering from an early incapacity evolved to service antiquated needs--those of animal origins? What if neurogenetic musculature were atrophying from lack of exercise, environmental nourishment appropriate to its still elementary but updated station? In educational disciplines, we answer any knowledge deficit with a curriculum.
Utilizing our seminal stimulus--elected to be the maternal blood pulse at rest, 60 counts per minute--as a sonic baseline, incremental variations in rhythm and pitch can be hierarchically arranged, each subtly more complex (Figure 1).
---
FIGURE 1
The Cardiac Curriculum
Twelve samples only: letter values are arbitrarily assigned; "A" represents the maternal heartbeat baseline,"B" and "C" reflect tonal variations--all falling within the normative fetal sonic environment
(1) A A A A A A A
(2) AA AA AA AA AA AA AA
(3) A AA A AA A AA A
(4) A AA AA A AA AA A
(5) A A AA A A AA A
(6) A A AA AA A A AA
(7) AB AB AB AB AB AB AB
(8) BA BA BA BA BA BA BA
(9) ABA ABA ABA ABA ABA ABA ABA
(10) BAB BAB BAB BAB BAB BAB BAB
(11) ABC ABC ABC ABC ABC ABC ABC
(12) ABC CBA ABC CBA ABC CBA ABC
---
FIGURE 2
Project Prelearn Sonic Curriculum Generation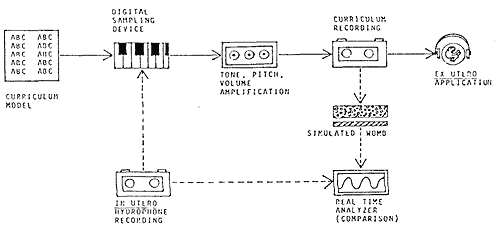 ---
By employing an electronic synthesizer (Figure 2), the digital sampling device, these compositions are performed on the keyboard within those strictest confines the fetal brain normally experiences, first vibratorily, then, when audition becomes present--but compensating for abdominal tissue and fluid attenuation from ex utero administration by elevating volume 35 decibels. The resulting stimuli are tested by filtering through an artificial womb and compared for fidelity with the original internal audio recordings. Each sonic variation in maternal heartbeat could thus constitute a curricular lesson, imprintable if accessed by the fetus for sufficient duration.
A PRENATAL STIMULATION PILOT STUDY
Project Prelearn's initial phase relied upon a volunteer mother of four, beginning when her unborn had reached eight weeks gestational age in December 1986. At least three hours of stimulation utilizing recordings of the Cardiac Curriculum were applied daily, during two sessions in the morning and afternoon or evening, from standard audiocassette player headphones situated upon the maternal abdomen; volume was confined to midrange on a conventionally calibrated scale. A total of 36 audiocassette tapes was played, each for slightly less than a week.
Regular infant evaluations in the first months after the July 1987 birth were grounds for expanding the project. While pilot studies serve as precursors to clinical trials with control and double-blind components, an offer was made to the subjects for alternative sonic stimulation from slow-beat classical music, but, understanding the prelearning hypothesis, all opted for the Cardiac Curriculum; ethical concerns against providing a placebo protocol where a mother might later feel victim to deception prevented such possibility. Standardized testing with well-documented norms was seen as an appropriate gauge for this pilot approach.
Ten additional mothers, all primagravidae, then began stimulating their prenates from one to seven months, about two hours per day. Curricular sequences numbered 12, 24, or 36 audiocassettes, depending upon when in pregnancy their use commenced. The second-phase infants were born from December 1987 through December 1988; their present ages, including the first subject, span 7 to 24 months, 11 mothers and 12 children altogether, including identical twins. Project staff under obstetrician oversight, with physician monitoring of every infant, charted over 100 variables (the most important in Tables 1 and 2) for each prenatally stimulated subject.
Maternal ages at time of childbearing were 19 to 35, the lower to middle-income parental population nonsmoking, without history of alcohol or drug abuse. Employment outside the home occupied over half the mothers; several parents had one year or more of college education. Neither family giftedness nor retardation was present among the parent sets. Before the project's inception, only two of the families had known each other. Reasons for participation varied, ranging from curiosity to progressivism, but with no overwhelming "superbaby" motivation.
Mothers started stimulating their unborn at 8-30 weeks gestational age, an average of 15.2, and ending by weeks 14-41.5 (six until delivery, one perinatally), averaging 33.8. Curricular exposure to 12, 24, or 36 audiocassettes--per the number of weeks until due date--averaged 18.3 weeks (5-31.5); 1.5-3 hours of stimulation took place daily (an average of 2.2), with total hours 70-609 (300.5 average). A broad span of variables was deliberately encouraged to compare diverse parameters even within the small sample size.
First fetal movement for the eight gravidae stimulating earlier occurred from weeks 11 to 24, an average of 15.5; those three beginning after had felt initial activity at their 15th-19th week (average 16.7). Increased physical movement was reported by 10 of the 11 mothers
---
Table 1
Project Prelearn Prenatal Data
| | | | | | | | | | | | | | |
| --- | --- | --- | --- | --- | --- | --- | --- | --- | --- | --- | --- | --- | --- |
| Subject | A | B | C | D (twin) | E (twin) | F | G | H | I | J | K | L | AV |
| Stimulation began (week) | 8 | 30 | 27 | 8 | 8 | 21 | 12 | 21(-) | 10 | 9 | 13 | 15 | 15.2 |
| Stimulation ended (week) | 36 | 39.5 | 41.5 | 20 | 20 | 41.5 | 38 | 33 | 41.5 | 14 | 38.5 | 41.5 | 33.8 |
| Total stimulation (weeks) | 29 | 9.5 | 14.5 | 12 | 12 | 20.5 | 26 | 8 | 31.5 | 5 | 25.5 | 26.5 | 18.3 |
| Daily stimulation (hours) | 3 | 2 | 2 | 2.3 | 2.3 | 2 | 3 | 1.5 | 2 | 2 | 2 | 2 | 2.2 |
| Total stimulation (hours) | 609 | 147 | 203 | 189 | 189 | 287 | 546 | 84 | 455 | 70 | 357 | 371 | 300.5 |
| First fetal movement (week) | 11 | 19 | 16 | 12 | 12 | 15 | 20 | 24 | 11 | 12 | 15.5 | 22 | 15.8 |
| Movement during stimulation(1) | 4 | 3 | 4 | 3 | 3 | 3 | 1 | 2 | 3 | 0 | 2 | 2 | NA |
| Movement anticipated stimulation(1) | 4 | 3 | 4 | 1 | 1 | 2 | 0 | 1 | 2 | 1 | 1 | X | NA |
| Fetus sought stimulation(1) | 3 | 0 | 3 | 3 | 3 | 2 | 0 | 1 | 3 | 0 | 0 | 2 | NA |
| Synchronous movement(1) | 3 | 0 | 2 | 2 | 2 | 3 | 0 | 0 | 3 | X | 1 | 2 | NA |
| Synchronous movement length (minutes) | .3 | .3 | 7.5 | 15 | 12.5 | .1 | .1 | .1 | X | .1 | 1 | .1 | 3.4 |
| Fetal heartbeat(2) | N | N | N | N | N | N | N | N | F | N | N | S | NA |
Key to: (1) 4=always; 3=mainly; 2=sometimes; 1=seldom; 0=never.
(2) N=normal; F=fast; S=slow; X=not recorded; (-)=weeks omitted.
---
Table 2
Project Prelearn Perinatal and Neonatal Data
| | | | | | | | | | | | | | |
| --- | --- | --- | --- | --- | --- | --- | --- | --- | --- | --- | --- | --- | --- |
| Subject | A | B | C | D (twin) | E (twin) | F | G | H | I | J | K | L | AV |
| Sex | M | M | F | F | F | F | M | M | M | F | M | M | NA |
| Birthday | 7/87 | 12/87 | 1/88 | 3/88 | 3/88 | 3/88 | 4/88 | 5/88 | 5/88 | 6/88 | 12/88 | 12/88 | NA |
| Labor (hours) | 12 | 15.5 | 12 | 13.5 | 13.5 | 12.5 | 15 | 17 | 13.8 | 10 | 10 | 14 | 13.2 |
| Caesarean Delivery | no | yes | no | yes | yes | no | no | no | no | no | no | no | 18.2% |
| Gestational age (weeks) | 38 | 39.5 | 41.5 | 33.5 | 33.5 | 41.5 | 41.5 | 39.5 | 41.5 | 38 | 38.5 | 41.5 | 38.9 |
| Birth weight (gr) | 3374 | 3856 | 3231 | 2296 | 2282 | 3912 | 4252 | 2750 | 4734 | 3600 | 3685 | 4085 | 3504 |
| Birth Length (cent) | 49.5 | 55.3 | 52.1 | 45.7 | 45.7 | 55.9 | 54.6 | 50.1 | 52.1 | 50.1 | 55.3 | 56 | 51.9 |
| Cranial Circumference ( cent.) | 34.9 | 35.6 | 34.9 | 32.4 | 33 | 34.3 | 36.8 | 34.9 | 36.8 | 35.6 | 34.9 | 35 | 34.9 |
| APGAR score ( 1 min.) | 9 | 7 | X | 9 | 8 | 8 | 7 | 8 | 8 | 7.7 | 9 | 8 | 8.1 |
| APGAR score ( 5 mins.) | 10 | 9 | 9.9 | 10 | 9 | 9 | 9 | 9 | 9 | 10 | 9 | 9 | 9.3 |
| Crying at Birth | no | no | no | no | no | no | no | yes | no | no | yes | no | NA |
---
Table 2 (cont.)
Project Prelearn Perinatal and Neonatal Data
| | | | | | | | | | | | | | |
| --- | --- | --- | --- | --- | --- | --- | --- | --- | --- | --- | --- | --- | --- |
| Subject | A | B | C | D (twin) | E (twin) | F | G | H | I | J | K | L | AV |
| Smiling at birth (2) | 2 | 0 | 2 | 2 | 2 | 2 | 2 | 1 | 1 | 0 | 0 | 2 | NA |
| Cooing at birth (2) | 4 | 0 | 2 | 2 | 1 | 4 | 4 | 1 | 1 | 1 | 0 | 2 | NA |
| Babbling at birth (2) | 0 | 0 | 2 | 1 | 1 | 1 | 4 | 1 | 1 | 0 | 0 | 2 | NA |
| "Ah-goo" at birth | no | no | no | no | no | no | yes | no | no | no | no | no | NA |
| Hands open at birth | yes | yes | yes | yes | yes | no | yes | no | yes | yes | yes | yes | NA |
| Arms outspread at birth | no | yes | yes | yes | yes | yes | yes | no | yes | yes | yes | yes | NA |
| Body relaxed at birth | yes | yes | yes | yes | yes | yes | yes | yes | yes | yes | no | yes | NA |
| Sound reaction at birth (3) | B | S | BSM | BM | BM | M | S | S | SM | M | S | BM | NA |
| Turned to sound at birth (2) | 4 | 0 | 3 | 4 | 4 | 4 | 3 | 3 | 3 | 0 | 0 | 2 | NA |
| Turned to voice at birth (2) | 4 | 0 | 3 | 4 | 4 | 3 | 3 | 3 | 3 | 0 | 0 | 2 | NA |
| Grasping ability at birth (4) | C | S | C | C | C | C | C | S | C | S | C | S | NA |
| staring at birth (5) | OFS | OF | OFS | OFS | OFS | OF | OF | OFS | OFS | OF | F | F | NA |
Key to (2) 4=always; 3=mainly; 2=sometimes; 1=seldom; 0=never.
(3) S=startles; B=blinks; M=moves.
(4) C=considerable; S=some.
(5) O=objects; F=faces; S=sounds; X=not recorded.
---
Table 2 (cont.)
Project Prelearn Perinatal and Neonatal Data
Subject

A

B

C

D (twin)

E (twin)

F

G

H

I

J

K

L

AV

Duration of birth staring
(minutes)

X

.8

1

.1

.1

X

2

1

.5

.3

.5

.8

.7

Neonatal tape recognition(1)

yes

yes

yes

yes

yes

yes

X

X

X

X

YES

NO

NA

Neonatal blink rate (per minute)

X

2

8

8

7

9.5

X

14

X

X

X

X

8.1

Duration of neonatal stares (min.)

X

1

2

.5

.8

1.5

3

1

1

.5

X

X

1.3

Age at evaluation (months) *

23

17

17

15

15

15

14

13

13

12

6

6

NA

Age equivalence (months) *

38

31

31

40

40

31

23

22

22

19

8

8

NA

Age differential (months) *

15

14

14

25

25

16

9

9

9

7

2

2

12.3
* Vineland social maturity scale
---
during the prelearning periods (the exception chose to end stimulation by her 14th week); such activity was never termed radical. As early as their 18th week, eight gravidae described a phenomenon of fetal movement in synchronization with the one-second stimulatory beats, often starting with the onset of an audio tape and continuing intermittently until the session's finish; these mothers were specific in reporting the experience as pleasant, quite distinct from normal kicking unconnected with the stimulation. The undulations differed in length from five seconds to 15 minutes, an average of 3.4 minutes, and seldom transpired apart from prelearning even if 10 mothers indicated the gentle activity sometimes commenced just before stimulation resumed. One mother observed altered levels of rhythmic response every time a new curricular tape was changed weekly.
An ultrasound videotape shows another prenate timing his respiratory movement in precise syncopation with the recorded material, regularizing what normatively is erratic within a beat or two after stimulation was initiated and subsiding the same brief interval after a tape ceased playing; because fetal respiration has been previously recognized only during rapid eye movement sleep(16) and that irregularly, this discovery may confirm a conscious activity late in term--elective response to environmental change--since occurring variously during stimulation, hence no reflexive function.
Prenatal heartbeat was not noted to alter as a result of the curricular patterns. Moving their heads toward the sonic source characterized eight of the stimulated infants (five mainly, two sometimes, and one seldom).
Labor averaged 13.2 hours (10-17), the primagravidae 12.6 (8-24). Caesarean delivery took place in two instances--18.2%--including the twins, compared with a national rate of 25%.
All five females and seven males experienced hospital births, with gestational ages at 33.5 (twins) to 41.5 weeks, an average of 38.9, normatively 39.5; excepting the premature twins, 40 becomes the project average. Full-term births (38-42 weeks) figured in every case but the twins.
Birth lengths were 45.7 (twins) to 56 centimeters, averaging 51.9, with five subjects grouped in the highest one percent of the general population, eight above 20%, and none under the upper 30% (48.8 norm); minus the twins, 53.1 is the average. The infants weighed 2282 (one twin)-4734 grams, an average of 3504, showing five in the top one percent, seven over 10%, and ten above 20% (3600 grams, normatively); the collective average rises to 3748 if the twins are omitted.
Cranial circumference was recorded at 32.4 (a twin) to 36.8 centimeters, averaging 34.9, two in the top one percent, six exceeding 10%, nine above 20%, 11 more than 25%, and none under the upper 40% (a norm of 33.5 centimeters). The standards consulted are those in the 1978 Mead Johnson Classification of Newborns. One-minute Apgar scores ranged from 7-9, an average of 8.1; the figures at five minutes increase to 9-10, averaging 9.3.
Ten of the neonates did not cry at all, one giving a slight whimper; the sole suction and forceps delivery caused distressed vocalization, immediately thereafter subsiding. Eleven infants were born with eyes open, nine smiling.
Free of the birth canal, 10 newborns instantly started cooing, eight babbled. The third stage in epigenetic vocalization, "ah-goo," was achieved by 10 babies, with a more complex linguistic variation, "aha," featured once; an indiscriminate "mama" (not directed at the mother) was clearly uttered three times by one neonate(17), the natural bridge between vowel and consonant usage.
Hands open and arms wide described 10 newborns, 11 with bodies relaxed (the other subject reacting to technological intervention during delivery, then quickly untensing).
Sonic response immediately following birth was universal among the group, four startling, two moving, one blinking, while the remainder expressed combinations of these reactions. Four neonates turned constantly toward sounds, four mainly, and one sometimes. Where parentally convenient, eight babies were evaluated for recognition of the Cardiac Curriculum within a few days of birth, specific and continuing curiosity demonstrated by seven.
All 12 infants stared at faces, objects, and the direction of sounds from a few seconds to two minutes, the average being 42 seconds; nine were tested for attention span over their early months, with lengths of focus varying from 30 seconds to three minutes, averaging 1.3 minutes--far longer than the prenatally unstimulated norm's degree of concentration.
Grasping strength at birth was characterized by hospital professionals as considerable for the entire group, one subject stretching to clutch the obstetrician's stethoscope. Counting eyeblinks--a new measure of information processing(18), 15 per minute normally for adults, once every two minutes for neonates--indicated 1-14, an average of 8.1 among six newborns evaluated (where hospital procedure allowed such observation; earlier births occurred before this recent test was known by evaluators).
Neonatal descriptions from obstetricians, nurses, and hospital staff were highly positive: "quite calm," "very alert," "extremely mature," "inquisitive," "intense stare," "calm," "best behaved," "never such contentment," "communicative," "attempted to form words," "unusually strong," "great head and neck control," "agile," "excellent health."
Because assessing developmental skills in the very young has historically been conducted out of concern over negative performance, instruments for correlating infant abilities with later cognition also above the norm have been notably lacking, relying almost exclusively upon motor or visuo-spatial gauges--now seen as less than accurate. The newly evolved Clinical Linguistic and Auditory Milestone Scale (CLAMS)(19)--derived from tracking 25 receptive and expressive features for 448 children to age two--fills a vacuum in early mental prediction. By recognizing that developmental sequences occur quite specifically, each building upon all preceding, questions of parents--such as "When did your infant wave bye-bye or play pat-a-cake?" "How many body parts did your child point to when named?" or "When did your child put a noun and a verb together in a sentence?"--measure the growth patterns of verbal functions with considerable veracity. For both receptive and expressive components, a 45° vector describes the CLAMS norm, with 50° corresponding to the population's highest 10%, 40° for the bottom tenth.
The project's initial subject attained linguistic and auditory progressions at 70° over his first seven months (Figures 3 and 4), at which point this rate of developmental-stage acquisition moderated to 60° -- a morphological change substantially less than the normative decline. In comparison, at six months of age this child demonstrated a one-year advance beyond the receptive norm, 10 months over the gifted level, while expressive performance achieved 12 and nine months' respective precedence.
The 11 additional subjects (B through L, Figures 5 and 6) approximate the first's example (A)--as a group clearly distinguished from the unstimulated record--although those two infants receiving the least stimulation (H and J) define early vectors closer to the traditionally gifted. Receptive angles initially span 60-78° (average, 72.4°), changing at two to seven months (average, 3.2) to 45-60° (average 51.5°), and, again, for those not already off the two-year scale, at eight months (average, eight) to 45-50° (averaging 48.3°); expressive vectors are 55-80° (average 69.9° ), modifying at two to 12 months (average, 5.1) to 45-60° (average, 51.5°), and, once more, for those still on the chart, at eight to 12 months (average 10) to 45-60° (averaging 48.8°). It should
---
FIGURE 3
Project Prelearn Receptive Language Development (Subject A)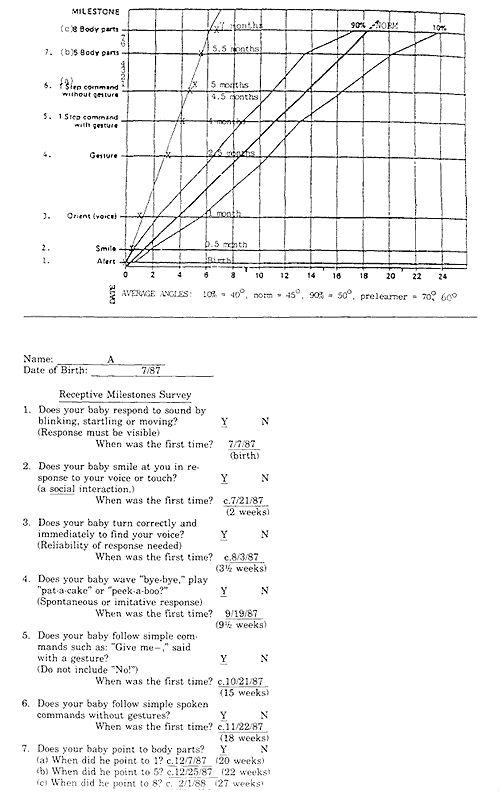 ---
FIGURE 4
Project Prelearn Expressive Language Development (Subject A)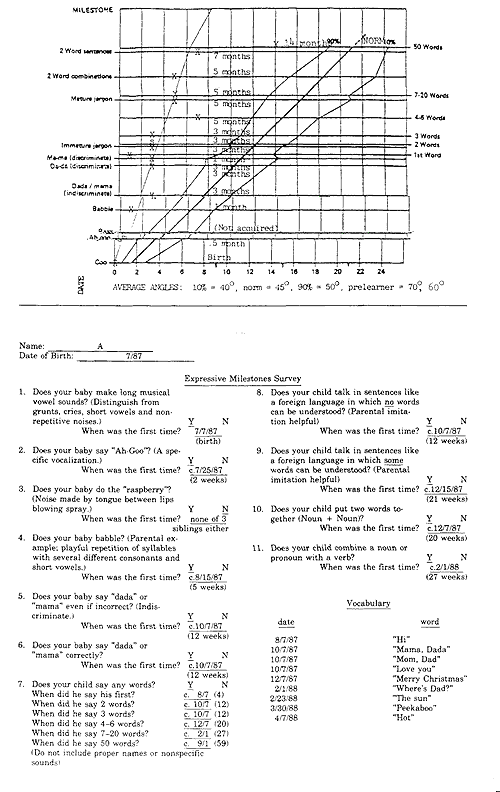 ---
FIGURE 5
Project Prelearn Receptive Language development (to 6/89)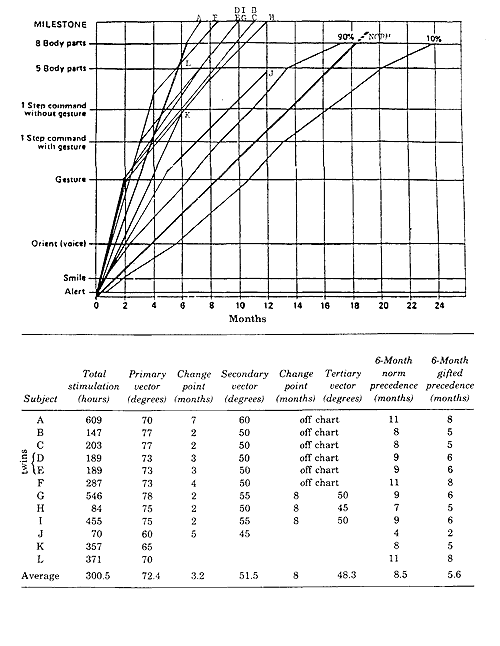 ---
FIGURE 6
Project Prelearn Expressive Language Development (to 6/89)
---
be carefully noted that secondary and tertiary change points reflect adjustments coordinating straight-line vectors with normative parabolic developmental curves tapering throughout life--since mental growth factors are constrained to a morphology of being formulized by the Law of Ontogenetic Potential; while lessening in the subjects' initial rates of development naturally follows that generic pattern all vertebrate life obeys, the key difference appears to be one of relative proportion to both the norm and gifted vectors. Only two infants were not sufficiently old at the time of this report to yield comparable data.
In all, according to this instrument, by six months these advantaged children represent an 8.5-month gain over the receptive norm, 5.6 months before gifted performance; expressive scores show 9.3 and 6.6 months' respective leads. Omitting those two stimulated the least, at six months the collective distance between subjects and the norm approximates a year, some 10 months beyond the gifted figure; even with subsequent diminution in the rate of developmental-stage attainment--true for the standard and highest 10% as well--the stimulated children would seem to increasingly distinguish themselves cognitively from youth unassisted in utero by an extent not previously detected for any human group. This observation reinforces the first Project Prelearn assessment(20). One-year CLAMS figures were not completely possible because the majority of subjects had earlier moved outside the measurement's upper limit, as indicated by its published norms.
Evaluation on the Vineland Social Maturity Scale determines the 12 subjects as two to 25 months (average 12.3-rising to 14.3 if the youngest two are excluded) beyond their chronological ages of six to 23 months (averaging 13.8).
Medical and other professional characterizations of the children--whether six months, a year, 18 months, or two-years-old--are favorable without exception: "precocious," "intuitive," "curious," "meditative," "sociable," "happy," "well-adjusted," "good sense of humor," "older," "intelligent," "capable," "mature." Each of the parents has indicated extreme satisfaction with the project and its personal outcome--the enhanced psychodynamics of bonding due to prenatal stimulation already documented by René Van de Carr.(21,22)
---
INTERPRETATIONS
Both specific and general conclusions about this research can be drawn, to date none seem negative. First, no individual developmental difficulties have resulted, neither medical, social, psychological, nor physical; infant heart rate and hearing are normal, motor skills advanced, early body size remains large without being ungainly, and--according to the standardized instruments employed--cognitive as well as behavioral features suggest consistency within the top 1% of the population. If biomarkers ascribe physical function levels compared with chronological age--a nutritionally and athletically fit person performing more youthfully than their years--then some term is needed to signify our psychodynamic complex of skills in advance of when normatively expected; accordingly, Project Prelearn's children appear to be achieving psychomarker scores at least double their age, whether stated in months or years. While two families of the 11 are now providing accelerated learning, as a whole the subjects are not being raised in environments overly academic, affluent, or enriching--other than normal love and attention, parents responding forthrightly to the cues of their young.
Because the synchronous fetal movement and respiratory activity observed during stimulation occurred intermittently, suggesting not an involuntary sympathetic or reflexive response, these prenates may have exercised a learned behavior; given the physical confines for in utero life, such efforts could be the stimulated subjects' sole way of expressing rhythmic understanding, even preference, possibly communicative attempts. That this early discrimination is vigorously and positively maintained by the fetus might be borne out by the majority of project unborn anticipating their regular daily stimulatory periods through initiating movements shortly prior, perhaps indicating temporal awareness not derived from maternal biochemical signals.
The conventional assumption that crying at birth is essential for commencement and clearing respiratory congestion becomes questioned by its almost total absence among these subjects--each continuing in excellent health; such reduction in early trauma could prove of significant benefit to the field of perinatal psychology, and contribute strongly to establishing a more clement climate for bonding as parents are introduced to happier newborns.
A possible biochemical or electrophysiological effect of prenatal stimulation at the cellular level might be evidenced by unusually large birth length, weight, and cranial circumference, all exceeding a statistical significance of .05 (Kolmogorov-Smirnov test-.021, .033, .021, respectively; Wilcoxon Signed Rank test-.009, .058, .008, respectively), without jeopardizing the project's Caesarean section rate. Increasing birth weight could alone justify sonic enrichment in utero as a standard prenatal procedure, particularly in developing countries where maternal malnutrition typically leads to major infant deficits or mortality.
Performance curves on measurements like the CLAMS suggest that Cardiac Curriculum stimulation occurring too briefly--perhaps under 150 hours if administered two hours daily--is of less effect, while exposure to progressively sequenced sounds beyond a few hundred hours appears unnecessary for achieving optimal outcomes. Longitudinal tracking from additional protocols will prove requisite, however, before this determination can be definitively claimed. It should be underscored that the evidence assembled here is by definition preliminary, and needs to be specified by clinical measurements whose preparation has in fact already begun.
What can be ventured from the data is that a particular cultural procedure accessed by the fetus through late twentieth century technology (though with ancient antecedents in our richly rhythmic tribal origins) may be influencing neurogenesis in attractive directions, observably and consistently, possible verification that advantageous mental hence behavioral alternatives in the individual are a direct result of enhanced neuronal count and/or differentiation, as has been observed at the animal level. While no definitive evidence exists--with the exception of those approaches by René Van de Carr and Donald Shetler, if primarily as promoters of bonding--that alternative sonic stimulation administered prenatally could produce like results, until such studies are made, absolute validation of the Cardiac Curriculum cannot be confirmed. Nonetheless, from these pilot study suggestions a potential amplification in consciousness, presumably continuation and consequence of evolutionary practice--formerly biologic and now societal in origin--could allow performance assessment of the contrasting host species, as Feud ventured in his prophetic essay, Civilization and Its Discontents.
If a Theory of Phylogenetic Dysfunction,(23) perforce relativistically judgemental, infers a Normalcy Syndrome--where the prevailing behavior in humans becomes no longer sufficient for meeting complex historical demands, both personal and collective--then intervention at the appropriate developmental stage is arguably a mission of mercy . . . in this instance, rescuing the protobrain. Viewed through the terms of Henri Bergson's Creative Evolution, the prelearning thesis may make consummate sense according to immediate let alone future need. Should the implications of Project Prelearn's pilot study be reinforced through planned clinical trials, with a sufficiently large sample population and control comparisons, not to seriously entertain this option would place children in peril--of merely being average, and for the next millennium's challenges such prognosis could prove grim indeed.
But parents have always designed their offspring--for better or worse, depending on inclination and ability--through neglect, superior nourishment by the industrious forager, selecting a good school. If for every other species this evolutionary mechanism is genetic momentum, our will dictates the bloodline's environment; prelearning merely presumes another natural configuration of that ancient art.
We are all prisoners of biology--the fetus especially, inhabiting a mostly unstimulating if noisy uterine universe, certainly a sensorially unstructured domain. Yet patterns--their perception derived from previous exposure establishing memory traces--constitute what defines our kind. And now, cultural freedom to recognize through earliest recall has become available for a creature more cognizant and capable than ever dreamed, eager to learn in those age-appropriate ways promoting lifetime beneficial mental and behavioral change; facing the compounding evidence, only adult defensiveness--perhaps egotistically threatened by irretrievably lost personal opportunity--can deny what the prenatal disciplines are disclosing.
Intervention is the human signature, not always to our best ends, except we are the learner animal; this postulative revolution in how and when we begin to learn could be characterized as no more unnatural than adoption of any new tool. We must but determine the discriminatory standards of operation--effectiveness, safety, simplicity, availability--as art yields to engineering, and the cultural marketplace assigns value. We soon may discover that the question of prelearning is no longer speculative, only logistics: In which child?.
If we consider the generic human infant--at least in developed countries--how seemingly unlimited in potential, positive as purpose itself, beautiful and unblinking eyes bottomless pools ultimately to be filled with wisdom. But who are we fooling?--not just the present generation. That perennial hope of an optimistic species is mostly doomed to a far darker destiny than we care admitting--namely, the norm. Compare this picture of promise with reality merely a few years later, and our charming portrait takes on a quite somber hue. Tragically, the overwhelming odds are that each delightful innocent will fall prey to early physical or psychological abuse; a fragmented family; an egregiously flawed learning system (where only a quarter of Americans know the universe is expanding); a materialist culture lacking scant direction save rabid consumption of goods and services, pandered to by an unprincipled media's stupefying commercialism; the utter absence of ideas, philosophy as remote as physics; preteen alcohol, drug, and tobacco addiction; social or sexual impairment, probably both; multiple divorce; major depression or other form of mental illness; token life goals; and a warehoused seniority wholly devoid of private value... yet we glibly wish every child Godspeed on their treacherous voyage! The Third World forecast simply trades barbarisms.
Look again at our endearing newborn: the mental seeds mandating lifelong limitation, a performance to be fraught with relative failure at virtually every turn, may well emerge atrophic because they were undernourished when it mattered--only the animal's paltry neural structure, slightly embellished, has slipped past the closing developmental window, endowing this marginal organism with predominantly biologic functions, little more. All ontogenetic exceptions granted, is it any wonder human civilizations constantly cycle from deficit through dysfunction to pathology?
We may be sadly failing the best in us even as we have perhaps spawned concept and means to rectify our symptomatic dilemma; the liberation of a species by way of fetal empowerment could lie at last within reach--if for a change we will but rise above our provisional selves. Or is that truly egalitarian vision to be realized solely under cultural selection, phylogenesis by default? Whatever the answer, its greater understanding might at this very moment be forming in the warm, dark, and specially pulsating world of certain wombs.
---
REFERENCE NOTES
1. Chun, J.J., Nakamura, M.J., and Shatz, C.J. (1987). Transient cells of the developing mammalian telencephalon are peptide-immunoreactive neurons. Nature, 325, 617-20.

2. Chamberlain, D.B. (1988). Babies Remember Birth. (Los Angeles: Jeremy P. Tarcher)

3. Laibow, R.E. (1986). Birth recall: a clinical report. Pre and Perinatal Psychology Journal, 1, 78-81.

4. Verny, T. (1981). The Secret Life of the Unborn Child, 22-23. (New York: Summit Books)

5. DeCasper, A.J. and Fifer, W.P. (1980). Of human bonding: newborns prefer their mothers' voices. Science, 208, 1174-76.

6. Sacks, O. (1985). The Man Who Mistook His Wife for a Hat and Other Clinical Tales, 81. (New York: Summit Books)

7. Logan, B. (1986). Learning before birth: the cardiac curriculum. Presented at the First Developmental Enrichment Conference of the Infant Stimulation Education Association, March, Costa Mesa.

8. Nakae, K. (1983). A historical study on the thought of taikyo. Japanese Journal of Education Research, 50, 343-52.

9. Van de Carr, R. and Lehrer, M. (1986). Enhancing Early Speech, Parental Bonding and Infant Physical Development Using Prenatal Intervention in Standard Obstetric Practice. Pre and Perinatal Psychology Journal, 1, 20-30.
10. Shetler, D.J. (1989). The inquiry into prenatal musical experience: a report of the Eastman Project 1980-1987. Pre and Perinatal Psychology Journal, 3, 171-189.

11. Chun, Nakamura, Shatz (1987).

12. Diamond, M.C. (1987). Quoted in Mothers' enriched environment alters brains of unborn rats. Brain/Mind Bulletin, 12, 1.

13. Murooka, H. (1974). Lullaby from the Womb. (Hollywood: Capitol Records)

14. Salk, L. (1962). Mother's heartbeat as an imprinting stimulus. Transactions of the New York Academy of Sciences, 24, 753-63.

15. Logan, B. (1987). Teaching the unborn: precept and practice. Pre and Perinatal Psychology Journal, 2, 14-17.

16. Rigatto, H., Moore, M., and Cares, D. (1986). Fetal breathing and behavior measured through a double-wall Plexiglas window in sheep. Journal of Applied Physiology, 61, 160.

17. Logan, B. (1989). A special start: the extraordinary promise of prenatal learning. Pre and Perinatal Psychology News, Spring-Summer, 1.

18. Stern, J.A. (1988). Quoted in Chollar, S. In the blink of an eye. Psychology Today, 22, 8-10.

19. Capute, A.J., Palmer, F.B., Shapiro, B.K., Wachtel, R.C., Schmidt, S., and Ross, A. (1986). Clinical linguistic and auditory milestone scale: prediction of cognition in infancy. Developmental Medicine & Child Neurology, 28, 762-71.

20. Logan, B. (1989). Project Prelearn: the efficacy of in utero teaching. International Journal of Prenatal and Perinatal Studies, 365-380.

21. Van de Carr, Lehrer (1986), 26-27.

22. Van de Carr, K., Van de Carr, F., and Lehrer, M. (1988). Effects of a prenatal intervention program. In Fedor-Freybergh, P.G. and Vogel, M.L.V. (eds.) Prenatal and Perinatal Psychology and Medicine, 489-95.

23. Logan, B. (1988). The ultimate preventive: prenatal stimulation. In Fedor-Freybergh, P.G. and Vogel, M.L.V. (eds.) Prenatal and Perinatal Psychology and Medicine, 359-62.